Natasha Teen - Footjob With Fishnets (2019) HD 1080p
5-02-2019, 16:53
Описание:
Columbian teen beauty Natasha Teen is a sweet ballerina by day with an inclination for the kinky dark side, and becomes a footjob and fucking stripper by night in today's DDF Network foot fetish premium porn video shot for Hot Legs & Feet in 4K. You can see that the blonde babe is a mix of naughty and nice dressed in her pink leotard, black mini skirt, and crotchless fishnet stockings as she practices at the ballet barre. Natasha's naughty nymph side comes out in full force when she meets Czech stud Yanick Shaft for her stripper tryout. One rub of his crotch with her ballet shoes and his interest is peaked. One suck and footjob of his monster cock with her pantyhose sheathed toes and he's hooked. The luscious Latina sparks Yanick's fetish side and he's soon foot licking and toe sucking away. Hungry for her shaved pussy, he indulges in pussy licking and gets her soaking wet so she can slide his shaft right into her snatch to ride him cowgirl. They continue pussy fucking in missionary, have standing sex, and get deep in doggy style before she bares her toes for him to unleash his cumload.
Год производства:
2019
Студия:
HotLegsAndFeet.com / DDFNetwork.com
Жанр:
Big tits, hardcore, leg fetish, footjob, pantyhose, stockings
Продолжительность:
00:25:35
Качество:
HD 1080p
Формат:
MP4
Видео:
h264, yuv420p, 1920x1080, 29.97fps, 8000kb/s
Аудио:
aac, 48000 Hz, 192kbps, stereo
Скриншоты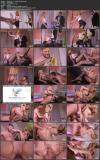 Загрузил:
Weeknd
(5 февраля 2019 16:53) |
Взяли: 1246 | Размер: 1.46 Gb | Последняя активность: 3 июня 2020 16:25
Раздают:
0
Качают:
1
Скачали:
268
Мультитрекер
Раздают:
0
Качают:
0
Скачали:
0
Благодарностей: 4
Рейтинг:
- Комментариев: 0
Просмотров: 4052
Перейти на главную страницу
Информация
Посетители, находящиеся в группе Гости, не могут оставлять комментарии к данной публикации.