Barbie Sins, Jasmine Jae - Xtreme Anal Galore (2019) HD 1080p
14-02-2019, 19:01
Описание:
Today's DDF Network Xtreme masterpiece is filled with endless anal penetration you don't wanna miss! Get ready for Jasmine Jae and Barbie Sins who spread their endless legs wide apart to welcome Yanick Shaft, David Perry, Luca Ferrero, and Ricky Mancini into their wet pussies. This extreme anal galore 4K group sex video is packed with the finest XXX delight and brought to you straight from the epicenter of adult entertainment. Jasmine Jae's shaved pussy gets fucked balls deep after sucking multiple dicks with her insatiable mouth. The busty pornstar can't wait to ride those veiny cocks with her vag while observing that blonde tattooed British vixen's double penetration sensation. Barbie Sins gets fucked in her ass while another throbbing dick bangs her tight wet pussy. Endless orgasms and multiple loads of white spunk make this outstanding XXXtreme hardcore orgy something you would definitely like to participate in, right? Sit back, grab your rod, and enjoy some kinky group sex, listen to two screaming babes and watch their assholes gape!
Год производства:
2019
Студия:
HandsOnHardcore.com / DDFNetwork.com
Жанр:
Big tits, group, hardcore, double penetration, anal, lingerie, stockings
Продолжительность:
00:38:19
Качество:
HD 1080p
Формат:
MP4
Видео:
h264, yuv420p, 1920x1080, 29.97fps, 8000kb/s
Аудио:
aac, 48000 Hz, 192kbps, stereo
Скриншоты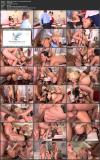 Загрузил:
Weeknd
(14 февраля 2019 19:01) |
Взяли: 924 | Размер: 1.53 Gb | Последняя активность: 30 июня 2020 17:04
Раздают:
0
Качают:
0
Скачали:
244
Мультитрекер
Раздают:
0
Качают:
0
Скачали:
0
Благодарностей: 2
Рейтинг:
- Комментариев: 0
Просмотров: 3970
Перейти на главную страницу
Информация
Посетители, находящиеся в группе Гости, не могут оставлять комментарии к данной публикации.